WordCamp Nuremberg took place on April 16 and 17, with a Contributor Day on the 18th. I loved being there and therefore meant to write a recap. So I better sit down with it now.
For me, WordCamp Nuremberg was a lot about community. Maybe it was because I was volunteering (again) and got the job title of "Head of Registration". But more likely it was because over the years I have been getting closer and closer to this community.
We started off getting settled at the location on Friday afternoon. Tables and chairs had to be moved, banners put up, rooms needed to be fixed up for all the recording stuff etc.. But a lot of hands did these jobs real fast and most of us gathered at the "Bratwurströslein" later that evening. There you could eat regional specialties, like Rostbratwurst among others (LEO German-English dictionary says Rostbratwurst = grilled sausage, but believe me, that doesn't even come close…).
Day 1 of WordCamp Nuremberg
On Saturday, the registration team met at 8 o'clock, just to make sure that we would be ready for our approximately 300 guests. Some of them actually got there shortly after us. 😉
I enjoyed my job at the registration desk, because you get to meet pretty much everyone at least once. And most of the time you do have enough time to welcome old friends and chat for a moment or two. Or at least they know where to find you and come back later to catch up.
The drawback, if there is one, is that you miss a lot of sessions. But then again, if you have a video team that's as fast as the one in Nuremberg that's no problem. Most sessions were uploaded by Monday and reviewed within a few days after the WordCamp closed it's doors. So go ahead and watch some of the talks on WordPress.tv!  The video team did a terrific job!
I still got to attend plenty of sessions. I'd like to share a few thoughts on some sessions that stuck with me for one reason or another.
Amelia is a former member of the European Parliament while Anders is a developer and encryption advocate. The two of them are supporting Swedish municipalities to build their websites according to data protection best practice.
The topic of data protection legislation in Europe did not really gain any clarity for me, but I am afraid that's not Amelia's fault.. It's a jungle out there and more often than not  courts of justice seems to be faster than the legislative process.
So what I took home with me were two main ideas: First of all, actually think about data protection as a website owner or rather, if you build websites for clients, create awareness for the topic.
Data you don't collect doesn't have to be protected, it's as easy as that. Think about whether you or your clients really need all that (Google Analytics) data. What do you do with it? Is there any reason your visitors would want to give you access to this data?
In my experience, more than half of the companies that desperately wanted Google Analytics don't use it. At all. They either forgot they needed it so badly, or there is nobody who has the time and/or the knowledge to get some useful information out of it. So I'd go with Amelia who put it this way:
Just because you are able to collect data is no reason to actually do it.
Plain curiosity definitely does not qualify as a valid reason.
The other message that sticked was encryption. Yes, nowadays everybody talks about it. And quite a few websites actually are encrypted by now. When we talk about encryption, most people only think about data we put into a form. But what about the content we view?
Anders' example was a large HIV clinic in Sweden. It's website is not encrypted.
So just imagine you are in doubt whether you got in touch with HIV one way or the other? Everything you look at can be spied out. You cannot even be sure that what you read is what actually is on that website. Unless the website is encrypted.
In that case, nobody is able to spy on you.
Anders cited Nicholas Weaver's talk at the USENIX Enigma 2016 conference earlier this year. In his talk "The Golden Age of Bulk Surveillance" he calls unencrypted traffic "a vulnerability" or even an "attack vector". (Pretty impressive talk, btw)
There are still some problems to be solved as Anders stated, but getting that certificate for your domain is a pretty good step to take, and you don't have the excuse that it's awfully expensive or complicated to implement. So get going!
I sticked with the English track and Emanuel Plagonics talk.
Croatian politics are still struggling with transparency and corruption. Therefore generally people are not well informed about the going ons in politics.
Emanuel told the story of how one of the biggest cities in Croatia, Rijeka, went about developing a new website that would change this.
In order to be transparent and open for their citizens it became clear that the basis of it needed to be Open Source software. It turned out to be "one of the first large-scale "design in the open" projects in Croatia" and therefore defined standards for future project.
I found it absolutely fascinating to follow along through the different stages of the developing process for such an enormous website project. It must have been incredibly hard work, lots and lots of hours, frustration and doubts, which always accompany such projects but Emanuel barely touches in his talk.
It sure was a "once in a lifetime" chance, for Rijeka and Croatia probably as well as for Emanuel and his team and it looks like they did a splendid job.
All the documents and software of the project will be open sourced, in order to make it available for other communities in Croatia and elsewhere.
The city of Rijeka in the process embraced WordPress as the software to democratise publishing and as a means to reach its ambitious goals. This lead to the city of Rijeka being a partner of WordCamp Croatia in 2015.
With all these good vibes day one of WordCamp Nuremberg came to an end. But wait, there still was the community party!
Truth be told, after a looong WordCamp day full of people, new information, inspiration and questions, I very often am just pretty exhausted. Too exhausted, actually, to consider the idea of going to a party (even more people and more noise) as something that might be fun. Well, to my surprise, this time I looked forward to the party. And it WAS fun.
The pizza was delicious (well, if you waited for the vegetarian ones; I am not a fan of ham or peperoni on my pizza) and human manned table top soccer was just hilarious.
Day 2 of WordCamp Nuremberg
I do have to admit that I skipped jogging through the pouring rain or doing yoga. I thought it was a good idea to offer some sports but 8 o'clock felt way to early for a Sunday morning, especially after having been to the community party the night before.
The first talk I attended was
Val Vesa invited us to follow his path all the way until he became part of Sucuri. It was a very personal story, but at the same time his talk was filled with lots of information about Sucuri and what to think about if you are talking security and WordPress.
I was very impressed with him initiating the shoebox project because he wanted to teach his son that sharing is a good thing.
The most important security hint I took away was: Whenever one of your sites gets hacked, make sure the domain doesn't point to that site any longer. Redirect to whatever you want, but cut the breached website off. This way you might be able to avoid getting blacklisted by Google and it gives you some time to check things thoroughly (or let someone do it who is more knowledgable than you).
After Val Vesas talk I attended a couple of German talks:
The Meta Meetup where WordPress Meetup organisers and people interested in attending or organising a WordPress meetup get together.
It's a big help if you are just in the beginning of organising a meetup, because you get to know other organisers and get to ask all those beginners' questions. It is also a good place to discuss questions arising around your meetup. From sponsoring to topics to formats to how to deal with situations that sometimes occur when lots of people get together. (You'll find a lot of information at Make WordPress Community.)
Hans-Helge Bürger talked about his Developer Workflow. I found it rather interesting to see how other developers organise their work. Everybody does things a bit differently and uses different tools. (He also did some talks in English: Check out his talks on his website.)
Another talk I did enjoy was Jan Thiels speaking about Mythbuster WordPress Performance.
He is the founder of "WirLiebenWP" (a hosting company) and I suppose 😉 he knows what he is talking about. My most important takeaway from his talk: adding a plugin to make your WordPress faster is probably not going to work, since it adds to the work load significantly.
Last but not least: Hans Jung talking about WordPress SEO. I do have to admit that I am a bit biased what SEO is concerned. I have gotten to know quite a few people who talk about it a lot and claim to be an expert. More often than not they have no understanding of WordPress and very little of how search engines actually work. It's fashionable to talk about it but sometimes it sounds somewhat obscure and mysterious.
Hans, on the other hand, knows a lot about WordPress and when he talks about SEO I actually listen. He is very good at separating myths from facts and kind of put the record straight for me.
That was the last talk, WordCamp Nuremberg was over. It once again was a marvelous WordCamp. Thank you so much to all the organisers, speakers, volunteers and attendees!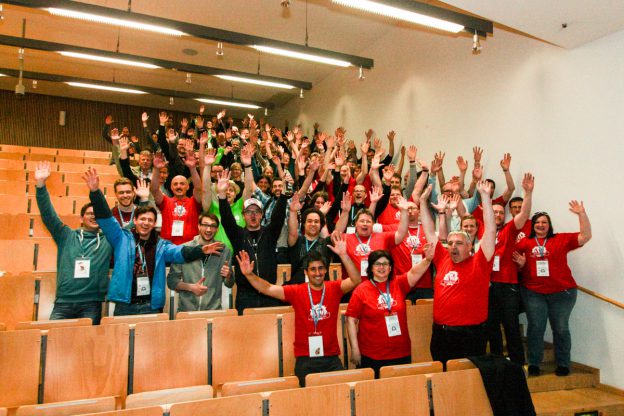 You'll find plenty of pictures on the WordCamp Nuremberg website, and all the links to videos, slides, wapuus etc.
But wait, it's not over just yet!
Contributor Day
Yes, let's not forget about contributing. On Monday, a smaller group of enthusiasts met at DesignOffices Nürnberg. DesignOffices showed its support for the WordPress community by providing the office space free of charge. We enjoyed a beautiful view of Nuremberg from the roof-deck.
I had thought about what I'd like to do and since there were a couple of WordCamp organisers around I figured the Community would be interesting.
Thomas (Cologne) and Stephan (Nuremberg) led us through the process of organising a WordCamp. They talked about what is needed to get started and how and when to get in touch with the WordPress Foundation. What processes are in place, what kind of support can be provided, deadlines and pitfalls, sponsoring, how to organise your project management,…
I was impressed by what kind of support is being provided by the WordPress Foundation. At the same time it still is a huge project and there are lots of things to consider I'd have never thought of..
It was very interesting to get all this information firsthand. So just in case we'd think about WordCamp Munich…
There also was a video team that got all the video material ready and uploaded it to wordpress.tv. Special thanks to them, they did a marvellous job!
Another big group were Polyglots, translating WordPress and plugins. I am sure they made a huge difference that day. I believe some smaller groups worked on core, support and probably meta, but I don't quite remember.
Well fed and with lots of good vibes and even more information I set out for Munich in the afternoon. I'm afraid there won't be a WordCamp similar close to home unless we organise it ourselves.
But first.. See you in Vienna!