In the beginning of February, we spent a week of vacations at the Belgian coast. We had planned to spend a quiet week with the family, including long walks at the beach, famous Belgian fries, waffles and chocolate.
We did have all of those; but we also found something so much more important and almost unbelievable: We found my great-grandfather.
We stayed in West Flanders, which is where during World War I hundreds of thousands of people lost their lives. It was mainly in the area of the city of Ypres where German and allied forces clashed. (For more details read about the Battle of Ypres.)
We certainly had talked about World War I during history lessons at school and I had read some more about it as well, so it's not like I didn't know anything about it.
What I did not know was that my great-grandfather had died in West-Flanders. I have no idea why it never came up; I'm pretty sure I wouldn't have forgotten about it if it had, though.
So one day when we just enjoyed a quiet evening in our cozy little vacation home, my father wrote to me about his grandfather. I still find it a pretty disturbing story:
When my great-grandfather died somewhere in Flanders, my great-grandmother supposedly never really knew when exactly he had died and where. She had four little boys between the age of two and eleven, my grandfather being seven at the time. Luckily relatives lived nearby and were able to support her and the boys.
Some 25 or so years later, we are talking World War II. Now my grandfather is a soldier and he has to go to Flanders. There he actually finds the grave of the father he had lost as a little boy. But somehow, again, the knowledge of the where and when gets lost.
Luckily, even though seriously injured, my grandfather survived the war. When he came back home my father was seven years old and did not recognize his father, whom he hadn't seen in years. But he still did have a father.
Reading this, I was deeply moved. And I certainly wanted to know more. My father was able to give me the name, birthday and birthplace of my great-grandfather. About his death, he only knew the year and that it had been in Flanders.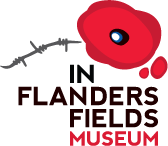 It took a bit of playing around with the little information I had, but I soon found some helpful databases. At the end of the evening we knew that he had died on July 24, 1917 and that his grave is to be found at the German military cemetery in Menen, Belgium. We found the most detailed information in the database of the "In Flanders Fields" museum.
My son immediately checked the location and it turned out that it was only 60 km from our vacation home. So, needless to say, the next day found us driving to Menen. I am glad we had the help of Google Maps, we probably wouldn't have found the cemetery otherwise. But we actually got there.
The German military cemetery in Menen is said to be the biggest military cemetery dating from World War I, with the graves of almost 48 000 German soldiers. It used to be only one among many cemeteries, but during the 1950s the remains of 53 cemeteries were transferred to Menen.
Visiting the cemetery in Menen was important for me. I feel it is not possible to grasp the dimension of what happened here, about 100 years ago. I wonder how many people just don't know about the graves of their loved ones.
I still am a little irritated that I didn't know this part of our family history. But the people who have known my great-grandfather are long dead; he just never was part of any family anecdotes or other kind of stories.
I am glad we found out about my great-grandfather and I'm sure I will be back. I did not get to visit the "In Flanders Fields" museum yet but I have it on my list of "must sees" now.
Meanwhile we can do a bit of research and maybe we are able to figure out some more of the puzzle…